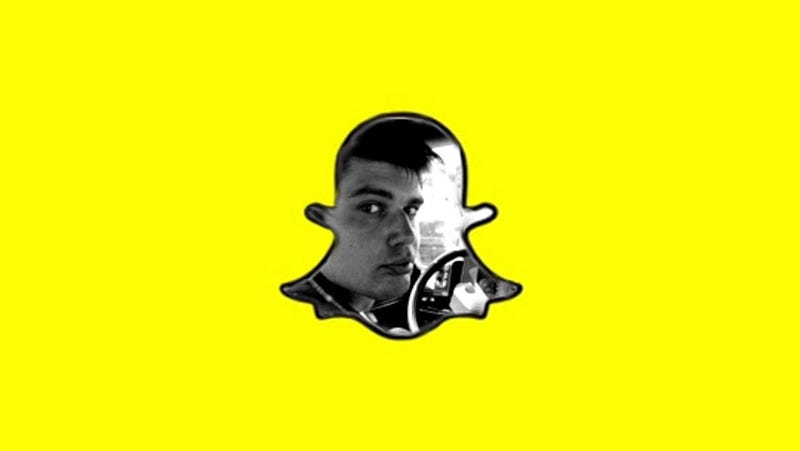 As unnatural as they may seem, automotive journalists are human just like me and maybe even you. Just like everybody else, they have an unhinged need to share their life on social media for no other reason than self-fulfillment. This is an exclusive look at what the Snapchat story of an automotive journalist might look like.
Jalopnik writer Máté Petrány, a.k.a. the Volvo guy, who has previously brought you stories of idiots, bullshit, boobalicious nonsense, and who finally gave Scotland a reason to exist uploaded this unprecedented look at what a little piece of his life is like.
For those who do not know, Snapchat is an app (short for application program) downloaded to a cell phone or other mobile device that allows users to take pictures and short videos and send them to their contacts list without using a messenger app. Users can publish their photos and videos in a grouping called a "Story" which lasts for 24 hours, and can be viewed by anyone in their contact list. Below is just a snippet of the life Máté leads; an exciting look at just a fraction of what his busy and interesting day is like. Luckily for us he has uploaded the video to YouTube, instead of limiting this unprecedented glimpse of unforgettable experience to only his Snapchat friends.
From this video we can learn a lot about Máté. It is not at all surprising to find that an automotive journalist might go for a drive, perhaps one he is enjoying so much he wishes to share it. The music Máté listens to is modern and upbeat, like the excited and rhythmic beats he expresses in his writing. Máté probably titled the video "Vihar" to mean "storm". Is he talking about the weather he is experiencing, or the storm brewing inside his brooding mind? The night setting and cold, rainy background add a dark and moody tone. Are these the emotions Máté feels as his thoughts wonder - reflecting like the lights ahead of him in the puddles of the street? The shakiness of the camera provides a sense of uneasiness. Perhaps Máté is unsure of his destination, or maybe he is excited for what awaits him. I think I speak for everybody in saying that we can only hope for more of Máté's exciting story to be shared.
This article is not as great as Máté's work; this is just a tribute.
[Update from Máté himself:]
Here's what happened:

Yesterday, I drove all the way from Germany to Budapest. 11 hours straight. My passenger, a girl who I helped to move back after an internship went south was in the car for almost all of the way, and it was raining heavily. In Germany, through Austria and in Hungary as well. I was really tired by the end of the day, but we were ok. (Bridestone, well done!)

After we arrived to Mosonmagyaróvár to her parent's house, I took off immediately to make it back to Budapest before 10 pm after starting the day at 7 am.

And then, for the last 40 kms, the storm got crazy. As in insane. The tarmac was hot, and I didn't mind the ice, but the water started to steam away immediately, so I could barely see despite the BMW's wiper's best efforts. It was dark as well, and the lightning above the city ahead made sure it was as dramatic as it gets.

My phone is rubbish and the video is there to prove it. I only made it so I could show the girl what she have missed. It wasn't safe out there at all at 120+.

By the way, the club music is radio and was there to keep me awake, because I had four coffees and didn't want more.
Sounds pretty intense. Glad you are okay, Máté. Why does it seem nature always goes out of its way to get us to regret good deeds?